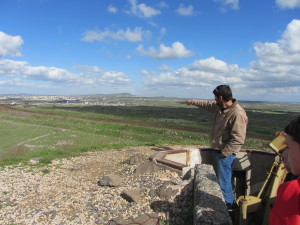 Jeeps can take you off the beaten track. You'll experience Golan wildlife and the border country with Syria in a way that even most locals don't get to experience. Or, explore the hills and lowlands around the Jordan River or the Sea of Galilee where wildlife abounds and Israeli farmers produce award winning produce.
When we ask tourists about their trip highlights Golan Jeep tours always make the list. As tour guides we also look forward to these off the beaten track adventures. We utilize local driver-guides who live in the area and know the terrain and history intimately as they live in the region, have served in the army here and worked locally as cowboys and farmers.
Climb into the tried and true British Land Rovers which handle off-road conditions. You'll be protected from the sun but buffeted by the wind as you head off past orchards and field crops and learn about Israeli agricultural innovations. If your tour starts near Mt. Bental you'll head east and encounter wildlife, and then come to within a hundred meters of the high-tech border fence with Syria. There's no better way to appreciate Israel's defensive needs in the volatile Middle East.
If you like to take charge, you can also rent an ATV or a Tomcar and drive yourself over the trails. During breaks your local guide will be sure to show you the local flora and fauna, and brief you with the most up-to-date political and military situation. Then he'll offer you some freshly steeped herbal tea from locally picked herbs.