Much of the New Testament Gospels took place in areas just outside of modern-day Jerusalem and Christian pilgrims should visit these places as a part of their spiritual journey. No pilgrimage should miss the town of Bethlehem, just to the south and right next door to Jerusalem, a 15 minute drive from the Old City of Jerusalem.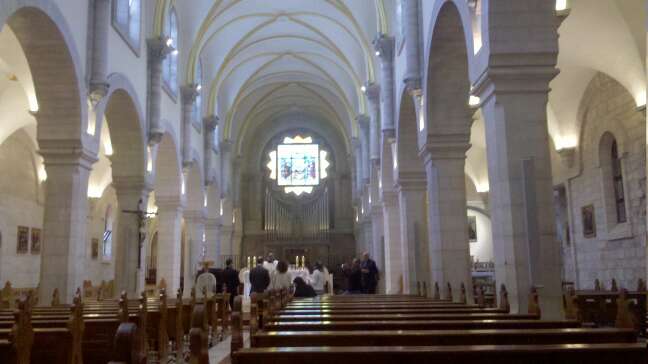 While there their first priority should be a visit to the Church of the Nativity, under which Jesus was born. Then there's the Sheperd's Field, just outside of town and a more pastoral setting in which to contemplate their faith and its message. Local Christian shops manufacture both hand-carved and machine-carved native Olive wood depictions of Nativity scenes which they will ship directly to patrons homes.
To the west of Jersualem, about 20 minutes away by vehicle is the church at Emmaus, the town where Jesus appeared to disciples when they invited him to spend the night with them, after his resurrection. To the east of Jerusalem, down a steep twisting road one eventually finds oneself able to cross a stream via a pedestrian bridge in the midst of the Judean Desert and arrive at St. George's Monastery. The monastery was first built here in the 6th century, first destroyed by the Persians in 614 and finally rebuilt in 1901 where Greek Orthodox monks continue to live. The next stop, just a half hour away in Jericho, is the spot where Jesus inquired of the tax collector Zacchaeus,  who had climbed up into a Sycamore tree to see Jesus (Luke 19:1-10) if he would invite him to a meal and nearby is the Mount of Temptation where, after his baptism by John the Baptist, Jesus spent forty days and nights fasting and meditating while Satan tried to tempt him to stray from his course.